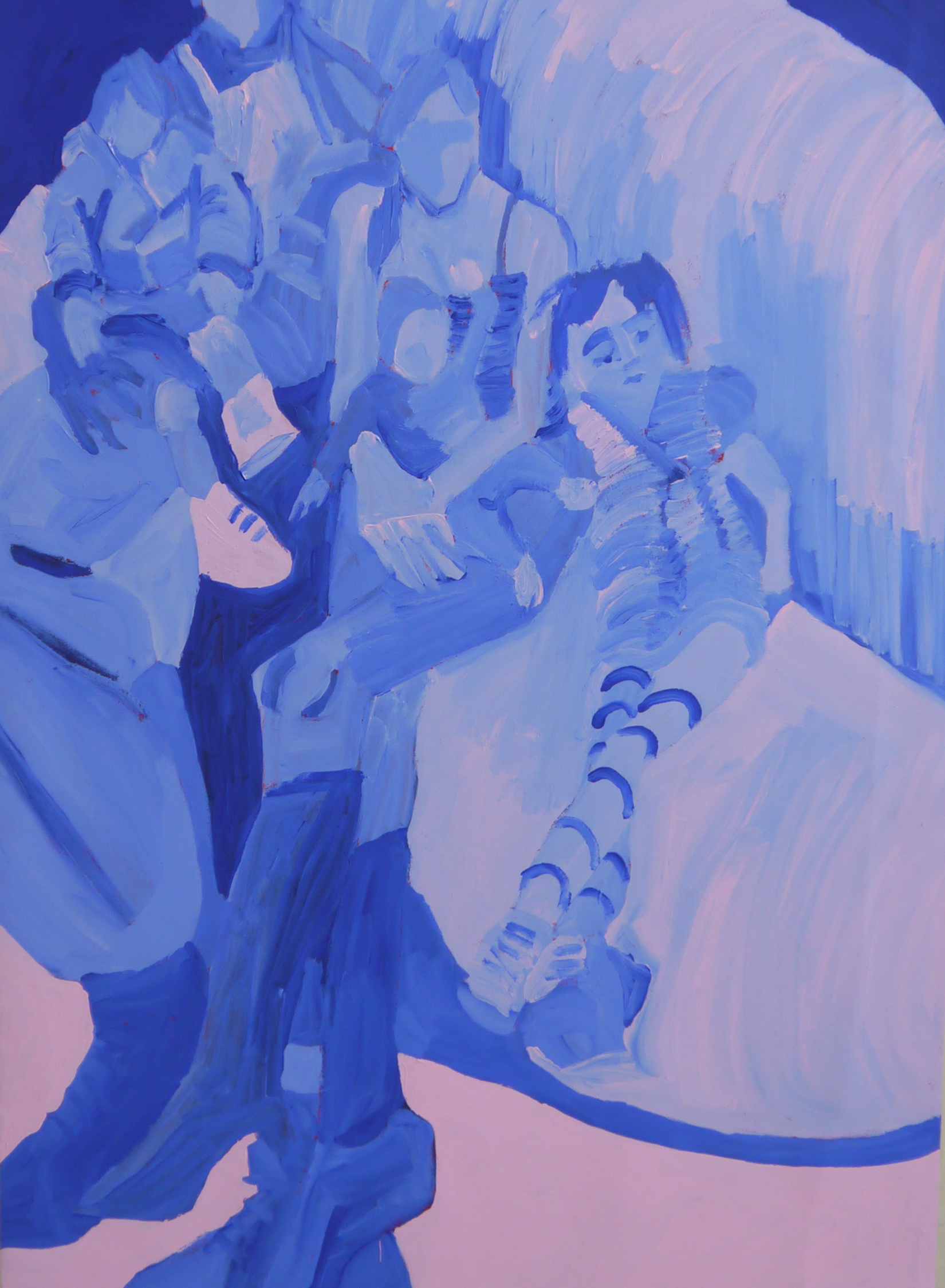 Meghan Keane, Displacement
March 1-26, 2016
Equity Gallery, 245 Broome Street, New York, NY 10002
Press Preview: Thursday, March 10, 4-6pm
Opening Reception and Book Launch: Thursday, March 10, 6-8pm
Gallery Hours: Wednesday-Saturday, 11am-6pm, and by appointment
New York, New York, February 4, 2016 – Equity Gallery is pleased to announce Displacement, a solo exhibition by Meghan Keane running from March 1 through March 26, 2016, with an opening reception for the public on Thursday, March 10, 6-8pm. This is the artist's New York gallery debut.
For Equity Gallery's fourth exhibition, Keane presents paintings featuring Colombian refugees whom she painted while staying in the outskirts of Bogotá. Keane's oeuvre explores the possibility of painting individuals who are under-represented in this medium. Displacement also features video projections of the artist's painting process and first person narratives of her subjects' experiences. She reframes the artist-subject relationship and the viewer's a priori expectation of what subjecthood (literally) looks like.
Keane's sitters participated in the project with the hope that it would draw attention to the people who have become displaced due to the ongoing violence in Colombia. They wanted to be part of something bigger than themselves and hoped these paintings would raise awareness of the important work of the foundation they lived at, Fundación Colombia Nuevos Horizontes (FCNH). Run by former refugee Marino Rivera, the foundation provides food, temporary housing and social services guidance to a daily influx of people rendered homeless because they are targeted with acts or threats of violence and helps them transition to a new life in Colombia. Since 2006, the foundation has helped over 3600 displaced people.
Keane's interest in respectfully honoring her sitters permeates all aspects of the work. She structured this project with contracts mandating that the foundation receive 50% commission on net sales from this body of work. As hoped, this unconventional fiscal partnership between artist and subject has already had profound social impact – one painting acquired by a private collector in Zurich underwrote the foundation's operating expenses for two months.
On the occasion of this exhibition, Equity Gallery and MKS Press are co-publishing a monograph, Meghan Keane: Displacement, Desplazamiento. With essay contributions by critics Jill Conner (AS | Artists Studios, Whitehot Magazine) and Jonathan Goodman (Art in America, Brooklyn Rail), anthropologist Sebastián Ramírez Hernández (Princeton University), Carolina Rubio MacWright (immigration lawyer, political artist, Bogotá native) and site photographer Laura Moretti, the monograph situates Keane's paintings as powerfully humanizing gestures amidst the complex Colombian and Latin American socio-political landscape, in addition to positioning her firmly as a significant contributor to contemporary social practice discourse. Keane's paintings are indicative of a larger push by painters to re-value paint as an expressive and democratizing medium. Signed copies of the monograph will be available for sale during the opening reception and book launch on Thursday, March 10.
In addition, Equity Gallery will host a panel discussion on Friday, March 11, an adult drawing workshop Friday, March 18, and a family drawing workshop followed by an evening musical performance on Saturday, March 26, in conjunction with this exhibition. Details for these events will be announced on Equity Gallery's website.
Meghan Keane is an American painter and printmaker, born in Saint Paul, Minnesota. She is increasingly known for her unexpected, peripatetic approach to generating work. Her paintings have been published in The New York Times and four prints of work from Displacement are on long-term display at Princeton University. Keane was trained at Parsons School of Design, Brooklyn College, USFQ Ecuador and Université de Paris. She has lived and worked in New York since 2001.
About Artists Equity
New York Artists Equity Association, Inc. is a 501(c)(3) non-profit organization founded in 1947 by artists and art patrons with the mission to promote opportunities for artists. It operates Equity Gallery, an art space located on the Lower East Side of New York City. For more information, please visit www.nyartistsequity.org.
# # #
Image: Meghan Keane, Angi (detail), 73 x 36 inches, acrylic on canvas, 2013, © Meghan Keane
EVENTS
ART & POLITICS?
PANEL DISCUSSION | Friday, March 11, 2016 | 6-7pm | FREE
Equity Gallery presents a roundtable conversation on the capacity for art to remain formally and materially expressive without ignoring the most burning socio-political conditions. Panelists include:
· Jill Conner, NYC critic, founder AS | Artist Studios
· Jonathan Goodman, NYC critic
· Meghan Keane, painter
· Sebastian Ramirez Hernandez, Princeton anthropologist
Moderator, Monica Espinel, independent curator
RSVPs kindly requested; email info@nyartistsequity.org
ART WORKSHOP | Friday, March 18, 2016 | 6-7pm | $20
Led by artist Meghan Keane, participants of any skill level are welcome. The workshop begins with drawing from life, honing ones ability to work observationally, and then will expand into flexing the creative muscle by using the work as a jumping off point for an creative work using office supplies and found papers. Required: Bring your own sketchbooks and pencils, the artist will provide the rest.
Register here: LINK. Limited to 12 adults.
FAMILY WORKSHOP | Saturday, March 26, 2016 | 11am-12:30pm | $20/family
Led by artist Meghan Keane, families of all art experience levels are welcome. This workshop is designed for parents and children to work collaboratively, or simply next to each other. The workshop starts by drawing what you see and practicing observing the work in the gallery, and ends with making some fun, unusual prints – collographs – using tape and string.
Register here: LINK. Limited to 6 families.
CLOSING HAPPENING | Saturday, March 26, 2016 | 4-6pm | FREE
Keane painted all the works in Displacement while playing Bach's Cello Suites off of her iPhone for her sitters. For the exhibition's closing, Keane has invited award-winning musician and composer Ljova to perform solo works for viola, works he composes improvisationally, to recreate both the atmosphere of the paintings' generation as well as dynamic experience of watching a work come into being before you. The performance will run from 4-5pm. Donations for the musician are encouraged. The artist will be available for a meet and greet after the performance from 5-6pm.